Although 2018 is a difficult year in many respects for Turkey's economy, it can be said that it is positive in terms of Mergers and Acquisitions (M&A). The total M&A transaction volume which was 16.4 billion dollars in 2015 fell to 7.3 billion dollars in 2016 with a dramatic contraction. M&A transaction volume that reached 10.3 billion dollars in 2017 increased to 12 billion dollars in 2018 with a positive trend.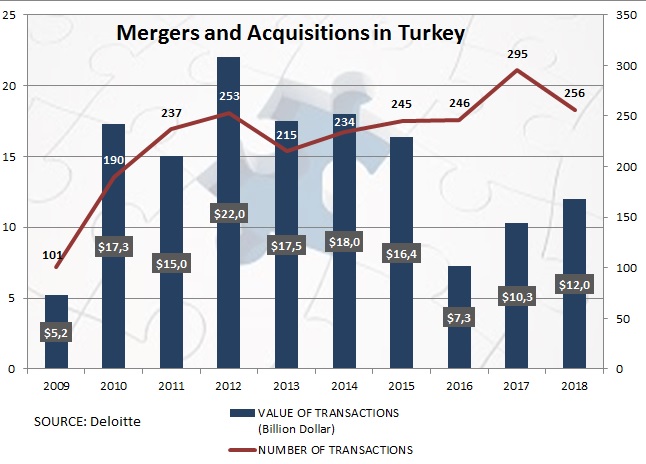 The fact that the share of foreign investors in M&A transactions increased from 3.8 billion dollars in 2016 to 5.5 billion dollars in 2017 and then to 7.6 billion dollars in 2018, it can be considered as a promising indicator for the coming period.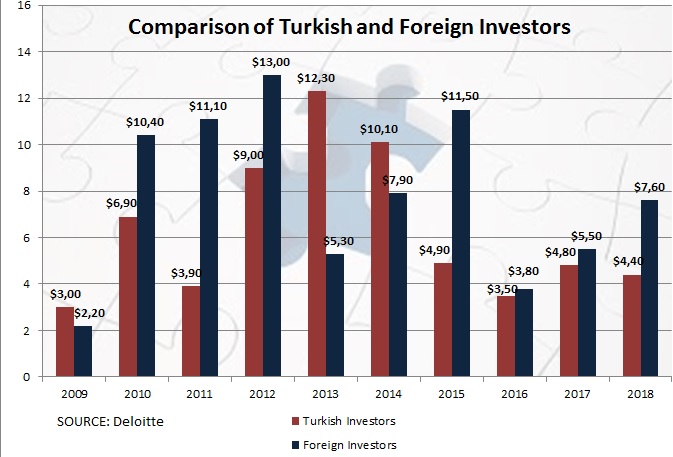 A total of 256 M&A transactions were realized in 2018;
In terms of the Number of Transactions: Internet & Mobile Services 50 deals, Technology 45 deals, Manufacturing and Industry 23 deals, Service Sector 18 deals, and Energy sector 18 deals are at the top of the list,
In terms of the Volume of Transactions: Banking and Finance, Logistics and Transportation, Media and Entertainment, Food and Beverage, Manufacturing and Industry accounted for approximately 57% of the total transaction volume.
The five largest transactions in 2018 are below;

182 of the total number of transactions made by Turkish companies, while 74 transactions were made by foreigners. Although the number of transactions was lower on the basis of the number of transactions, the size of the transactions carried out by foreign investors amounted to 7.6 billion dollars and 63% of the total transaction volume. When we look at the origin of the country and region of foreign investors; 36 transactions made by European countries accounted for almost half of the total foreign investments. While North America followed European countries with 16 transactions,Asia Pacific and Gulf Region have limited deals with 16 and 9 transactions, respectively. The United States, Germany, Italy and the UK remarked as the most active countries in Turkish M&A market.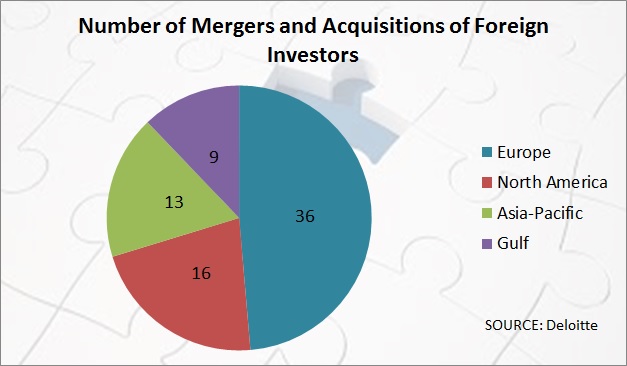 18 privatization transactions (especially the sale of sugar factories) made by our country in 2018 contributed to the total M&A transaction volume of USD 1 billion. In other words, 8% of the total M&A volume was due to privatization.
As in previous years, SMEs were the driving force of M&A transactions by generated 221 of 256 total M&A transactions. Transactions that were less than $ 50 million amounted to 86% of the total number of transactions. However, the financial size of these transactions accounted for 12% of the total transaction volume. Last year, only 5 M&A transactions that higher than $ 500 million were achieved, that is to say 53% of the total transaction volume was made up of these transactions.
Another interesting point of the data of 2018 is that the contribution of the Private Equity Companies to total M&A transactions on the basis of both the number of transactions and the transaction volume remained quite limited. The number of transactions made by PE companies last year decreased to 105 (146 in 2017), while the financial contribution of these firms to the total transaction volume declined to $ 1 billion ($ 2.6 billion in 2017). The majority of the transactions performed by financial investors belong to venture capital companies and angel investors in 2018. While these two investor groups signed a total of 82 M&A transactions, investments in start-up companies operating in the fields of technology, information and mobile applications in particular are noticeable.
M&A's global trading volume reached $ 4.1 trillion in 2018, marking the third best performance over the last 20 years ($ 4.6 trillion in 2007 and 4.5 trillion dollars in 2015). The transactions over $ 10 billion defined as mega deals were marked in the first 6 months of 2018. In total 30 M&A transactions announced during this period, setting the first 6-month performance record of all time. 2018 was also very positive in terms of cross-border M&A transactions. Approximately 30% of the total transaction volume was generated by international companies.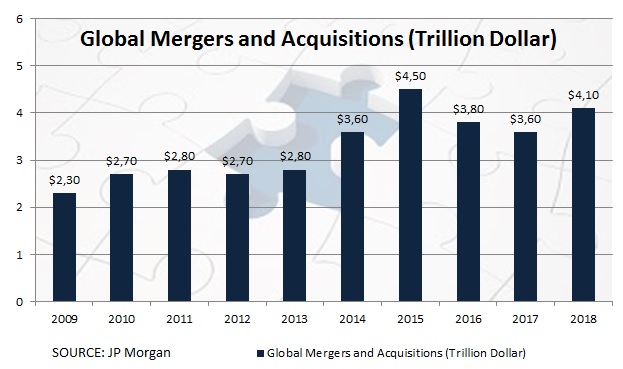 With the last quarter of 2018, there has been a serious slowdown in global M&A transactions. Global political risks and uncertainties, the protectionist policies implemented by the Trump administration and the trade wars caused by them, the signs of slowing down economic growth in the world, particularly in China and some European countries, the UK's process of Brexit and the uncertainties related to this process have led both investors at the international level and SMEs to be more cautious about new investment and growth.
All these developments naturally affected our country, as well as the problems of domestic companies in accessing financial instruments and credit resources had a negative impact on production in many sectors, especially in manufacturing and industry.
Almost all economists estimate that 2019 will not be an easy year for both the world and our country. Nevertheless, the positive expectation of more financial resources to flow the developing countries due to the FED signal's drawing back to the policy on the raising interest rate, new investments of global companies with their objectives of the growth and competition, new technological products that encourage both consumption and investment would be viewed as grounds for optimism in near future. And last but not least, the depreciation of national currencies has made it cheaper the assets of developing countries like Turkey to buy and invest for foreign investors. Therefore, it's estimated that 2019 might be a good year for M&A transactions over the world because of above-mentioned issues.
Sources: The data used in this paper are taken from the 2018 Corporate Mergers and Acquisitions Report by Deloitte and the 2019 Global M&A Outlook by JP Morgan.